The following stew recipe is in contention for one of my favorite things I have made this year. I do not use cinnamon in my cooking very often but the way it melds with the tomatoes and the olives here is pretty awesome. The result is a very hearty stew with a very unique flavor. This recipe was directly inspired by this recipe from the New York Times. The major changes I made include roasting the cauliflower before adding to the stew, increasing the garlic (shocking), and adding oregano.
I forgot to take a picture of the stew for this post so until I make it again, here is what I looked like after eating way more than I should have last night: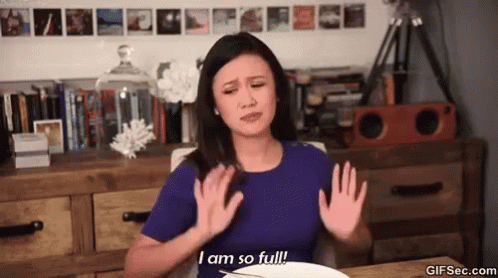 Chicken Stew With Roasted Cauliflower and Olives
2

tablespoons extra virgin olive oil

1

large red onion, chopped

5

garlic cloves, minced

4 to 6 bone-in

chicken thighs, skin removed

2

tablespoons red wine vinegar

2 15oz cans fire roasted and

chopped tomatoes, with juice

½

teaspoon cinnamon

1 teaspoon dried thyme

1 teaspoon dried oregano

1

small or 1/2 large cauliflower, cored, broken into florets, and sliced about 1/2 inch thick

1/4 cup

kalamata olives, pitted and cut in half

2

tablespoons chopped flat-leaf parsley

Salt and freshly ground pepper
Preheat your oven to 450 and roast the cauliflower for 20-25 minutes, until slight browned. When done, set aside.
Heat 1 tablespoon of oil over medium-high heat in your dutch oven or a large heavy skillet that has a lid. Brown the chicken, about five minutes per side. Set the chicken aside on a plate. Add the onions to the pot with a pinch of salt and saute for about 5 minutes. Add the vinegar and scrape up the remaining chicken bits from the bottom of the pan. Turn the heat to low, cover and let the onions cook for another 10 minutes, stirring from time to time, until they are lightly browned and soft. Add in the garlic and cook for another minute or two until the garlic is fragrant, then add the tomatoes, cinnamon, thyme, and oregano. Bring this to a simmer and add salt and pepper to taste.
Simmer for about 10 minutes, then return the chicken and any juice from the plate to the pot. If the chicken is not fully covered by the tomatoes, add in a cup of water and stir to incorporate. Bring back to a simmer, reduce the heat to low, cover and cook for 20 minutes. Add the roasted cauliflower and kalamata olives and cook for another 20 minutes, or until the chicken falling off the bone.
Pull the chicken out, remove the bones, shred with two forks, and return to the pot. Stir in the parsley, taste and adjust seasonings.
Serve with french bread or rice.